LATEST NEWS
VINTAGE Chanter Version Now Available
Check out our stunning new chanters with classic engraved nickel soles. Order the engraving of your choice to match your existing pipes. Click here to learn more.
---
Guelph Pipe Band | 2015 Champion Supreme
Congratulations goes out to PM Tyler Bridge and the Guelph Pipe Band for capturing the 2015 Grade Four Champion Supreme title in Ontario, Canada. Click Here to watch the band playing a wee set with their Campbell Tunable Chanters.
---
Instruction Manual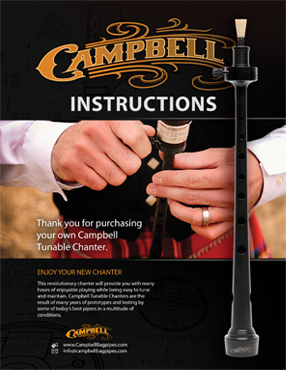 A very helpful instruction manual has been added to the "Learn More" page of this website. Be sure to take a look as there is a unique bagpipe tuning option on the last page.
---
Pipes | Drums
Kyle Campbell of Winnipeg has seemingly solved reed adjustment hassles with a patented new mechanism…Pipes | Drums magazine.
---
Piping Today Magazine
Mike Paterson, a writer from Piping Today Magazine wrote an article about the story behind the Campbell Tunable Chanter. Read more.

---
WILLIE McCALLUM PLAYING AT THE LAUNCH
WHAT PEOPLE ARE SAYING

"I was delighted to have Kyle Campbell of Campbell Bagpipes finally get to see his McCallum Bagpipes Ltd Bb Tuneable Chanter in action tonight at The Celtic Woman show in his hometown of Winnipeg, Canada."
"Kyle introduced me to his design over a year ago and it's been used in every Celtic Woman show since. The mechanism allows for quick and easy tuning of the pitch of the chanter without having to touch the reed. Very handy on a tour that encounters so many different environmental changes and obstacles along the way. Thanks again Buddy!"
Anthony Byrne
Celtic Woman
---
"I just want to say I absolutely love the Bb chanter I ordered from you a couple months back. The sound is gorgeous and my tuning problems are pretty much a thing of the past. My band, Potato Pirates, will be on tour the summer including 5 dates with Flogging Molly in May. I will be promoting your product as much as I can. Thank you for your invention!"
Scott Risch
Potato Pirates
---
"Just got the chanter in today. This thing is amazing. So intricate and sounds phenomenal. It's so much better than my previous chanter. I don't even need any piper tape on the holes. I will post a picture in the next email from my next bagpipe gig. At the end of the month.
Thanks for being personal in this transaction. It makes the transaction a much better experience."
Sean Evans
---
"Ordered the chanter and it arrived quickly…packaged in an attractive looking tubular box…the fit and finish are quite good..sleek and elegant..fired it up and gave it a go with various reeds…bold projection and clear tone as you would expect from a plastic McCallum…the external tuning adjustment mechanism is well designed and engineered…it's basically a worm gear that is incorporated into the bowl and throat of the chanter…easy to use and works exactly as advertised….this chanter should be standard equipment for a lot of bands here in the NY/NJ area that are doing parades and such…with the four season weather that we have here, it would allow Pipers to adjust on the fly…time to spend some money lads and take a giant step towards sounding better…and increasing the enjoyment of playing in a band."
Cheers,
Al Gonzales
www.theroyalpiper.com
---
"I have been aware of the Kyle Campbell chanter project for a number of years, and I was originally skeptical of the practicality and benefit of the chanters. In late 2013, the Conservatory Pipe Band (Grade 4) got a set of Campbell Tunable Chanters, and we have been delighted with them. The tuning mechanism has proven very useful for fine tuning at performances and contests, and the excellent McCallum-produced chanter sits comfortably at 480-482 in most circumstances. The chanter sounds well, has a comfortable finger spacing and hole size, and has worked well with a number of reed makes. The Conservatory Pipe Band has done well in competition playing these chanters, and members of the band have used them for solo competitions with good results and positive comments for tone and tuning from well-respected adjudicators. The band has been well pleased with the chanters, and would have no hesitation recommending them to others."
Iain MacDonald
Pipe Band Director
Conservatory of Performing Arts
Centre for Continuing Education
University of Regina
www.conservatorypipeband.org


---
"I have played the Campbell Tunable Chanter for 2 years and have found it to be well constructed and intuitive to use. The ability to quickly and easily sink or lift a reed without having to stop blowing or remove the chanter from the bagpipes greatly reduces the time needed to adjust to the current environment.
This chanter fills a void in the chanter marketplace that pipers have been needing for a long time."
Richard Wilson
City of Regina Pipe Band (Grade 2)
---
"My Campbell Tunable Chanter was easy to set-up and maintain. When playing solo gigs with limited warm up spaces, I love that with a small turn my pipes are back to being in tune and sounding like I've been warming up the whole time"
Chris Flook
Winnipeg Police Pipe Band